Bayliner Boats has announced that it has immediately added Heyday's Inboard boat models WT-1 and WT-2 to the Bayliner portfolio. This move allows Bayliner to better serve the recreational day boat consumer looking to add wake surfing to their day on the water. The opportunity to offer a surf option to the Bayliner portfolio is very attractive. Terms of the transaction were not disclosed.
"The wake/surf category is an attractive and growing portion of the recreational day boat segment, and particularly for those seeking a more affordable way to enjoy these popular watersports," explained Bayliner President Keith Yunger. "This action affords Bayliner speed-to-market with wake/surf models that were specifically designed to meet the performance expectations of wake and surf enthusiasts, but will retail at a more affordable price point, further contributing to the growth of this boating category."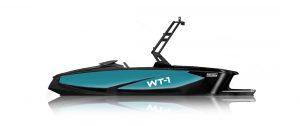 Both the WT-1 and WT-2 models were designed by the father-son team of John and Ben Dorton at Bryant Boats. John Dorton is a well-respected and accomplished marine industry veteran, while his son, Ben, is a gifted wake surfer who has brought a practiced and practical eye to the design of these boats.
Heyday's WT-1 started with a simple goal – create a small boat that throws a big wake. Hull design is everything. After spending countless hours in R&D with top wake hull engineer "Cotton" Welshan (a 30-year veteran in the watersports industry), Heyday crafted a hull that works perfectly for both wakesurfing and wakeboarding.  Heyday's 117 degree angled transom creates a natural curl as water is pulled off of each rounded corner at separate times, creating a massive surf wake that can be easily transferred side-to-side. At speed, the hull also throws a perfect wake for wakeboarding.
As part of this transaction, Ben Dorton will join the Bayliner team as manager of business development, while John Dorton will consult with the Bayliner team.
"John is among the pioneers in this category," Yunger said, "and that experience resonates in these boats' design and performance. Further, these boats were engineered – as with Bayliner – with value and performance in mind, and are a great fit for our Bayliner brand. We will work closely with the dealer network to integrate these models into our product offering."
"By effectively combining John's knowledge and these models' innovation with the inherent strengths of Bayliner, we have the team, product, focus and energy to be very successful in this category," Yunger said.
Bayliner is integrating production of the WT-1 and WT-2 into its boat production facilities, and will introduce these models at Surf Expo 2016 in Orlando.
For more information visit http://heydayinboards.com or www.bayliner.com