The innovative Predator 57 is the fastest-selling model in Sunseeker's history. So of course we couldn't wait to take it for a ride.
British luxury yacht maker Sunseeker International is known around the world for creating beautiful, stylish, and ultra-luxurious high performance yachts for a discriminating clientele. In spite of that worldly cachet, the Dorset-based company really raised the bar at the 2015 London Boat Show when it unveiled its all-new Predator 57. The newest and smallest member of the four-yacht Predator family sent shockwaves through the yachting world, setting completely new standards for luxury and amenities in this size category. Now, one year later and with an estimated 80 boats sold, the Predator 57 has become Sunseeker's fastest-selling yacht ever.
So when the opportunity came to take one for a spin, how could we refuse?
 For all of its luxury and refinement, the Predator 57 is clearly built for family fun. That's obvious as soon as you walk up to the yacht at dockside, and step aboard via the massive, hydraulically-operated rear swim platform. Its not just a place to get in and out of the lake, it's the place to hang out on a hot summer's day. Just touch a button and the entire structure can be submerged up to about 18 inches below the water surface, sinking your deck chair so you stay cool while enjoying the view.
With the swim platform lowered, you'll also have access to the garage. That's right – rather than carry a tender on a davit and lose swim platform space, the Predator 57 stows its dinghy indoors. Push another button and a large, hydraulic transom door slowly opens to reveal the tender garage, big enough to house a Williams 325 or other jet tender to around 10 feet in length. An electric winch makes launching or retrieving easy.
Just to starboard of the garage, a second door provides access to a crew accommodation cabin. If the crew is you, then it also makes a great place to stow large, bulky gear like stand-up paddleboards or kayaks.
Entry into the aft cockpit is via a stairway at the starboard side of the swim platform. As you enter the cockpit, it's hard to miss the large, upholstered sun pad that sprawls over the stern. Just ahead of it, a plush wrap-around settee  stretches across the stern and forward up the port side of the boat. This seat surrounds a beautiful teak table with integral beverage holders, which can be flipped open to create an even larger table for lunch. Overhead, the hard top hides a retractable panel that can be extended all the way back to the swim platform if needed, allowing any mix of sun or shade. An attractive cabinet along the starboard sidewall opens to reveal a fully-equipped outdoor galley and refreshment centre, complete with a BBQ grill, cool plate, sink with faucet, a refrigerator and an ice maker.
Press another button and both the salon door and the portside rear glass disappear into the floor, turning the Predator 57 into a wide-open boat with a continuous, full-length salon that stretches the length of the port side. This is a great feature, and it completely eliminates the need for owners to have to choose between an open or closed boat.
For an even more airy feeling, push yet another button and watch the sun shine in as the enormous overhead sunroof opens wide.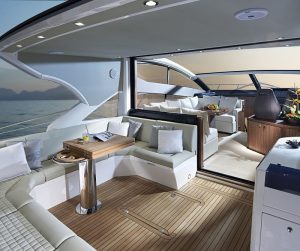 Seating in the main salon roughly echoes the aft cockpit, with a delightful wrap-around settee to port surrounding a gorgeous teak table. To starboard, a beautifully finished wood cabinet opens to reveal an elegant, mirror-backed cupboard for storing glasses and stemware. Touch another button and a high definition Samsung television rises silently out of its top. The forward end of the cabinet neatly wraps around the base of the helm seats, concealing a generous bar cabinet with a convenient shelf above providing the perfect place to store small items like corkscrews or the television remote. Throughout, small chrome-rimmed LED displays provide convenient control of heating, air conditioning and fan operation.
The cutting-edge helm station is as high-tech as it gets, including automotive-inspired keyless ignition and a fully digital vessel monitoring system. A pair of large, side-by-side multi-function, touch-screen displays dominate the upper dash panel, while below a large chart table sits to the left of the exquisite, six-spoke chrome-on-black leather steering wheel. To its right, and positioned within perfect reach, our review boat featured a Volvo-Penta EVC twin control and joystick. The driver and companion ride on twin bucket sport seats that look and feel like they came straight out of a Bentley, with neat, double-diamond stitching and integrated, flip-up bolsters. The styling of the helm and positioning of the seats combine to provide outstanding visibility while underway, while a power-down window along the starboard side provides exceptional convenience when docking.
A few short steps ahead and down from the helm leads to a bright and spacious galley, with a ceramic top four-burner range floating over a beautiful granite countertop. This is where Sunseeker really has the chance to show off the beauty of its polished wood cabinetry, broken only by the stainless steel form of a Sharp convection microwave positioned immediately below the range. Slide-out spice drawers surrounding the oven keep seasonings secure yet always within reach, while the large refrigerator and full-sized sink are positioned on either side to form that ideal working triangle for optimal kitchen efficiency.
Opposite the galley to starboard, a comfortable breakfast salon provides a private dining option when you're not yet ready to venture onto the main deck.
Forward of the galley on the port side is the day head, complete with solid surface counters and backsplash, a full-size countertop sink and a stand-up shower. A pass-through doorway provides en-suite convenience to the VIP suite in the bow.
The VIP suite is spacious enough and so beautifully appointed one might easily confuse it for the owner's accommodations. The bright suite includes opening portholes set within its large windows – a unique and elegant touch that sets this boat apart. The Queen bed is comfortable, and there is plenty of storage making even long cruises comfortable.
A second guest cabin, located just aft of the breakfast salon, accommodates twin Pullman bunks. A large window lets in plenty of light, and again, ample storage accommodates all of your guests' belongings.
The owner's suit is positioned mid-cabin in the Predator 57, making the most of the yacht's 15-foot beam. A wonderfully inviting seating area with a breakfast table to starboard of the Queen bed is the ideal spot for that first coffee of the morning, inviting you to rise slowly and ease into the day. Large windows with opening inset portholes provide plenty of light and fresh air, while the peaceful, neutral décor beautifully complement the delightful wood furniture. The large en-suite offers a remarkable amount of space for storage and a full-stand-up shower with its own port hole (tastefully frosted for modesty).
But the Sunseeker Predator 57 isn't just built for comfort. With a pair of Volvo-Penta IPS950s housed in its spacious engine room, this sporty yacht accelerates smoothly out of the hole and settles on plane without fuss or fanfare – exactly as a sport yacht should. With four of us aboard on a warm September morning and loaded with a half tank of fuel and a half tank of water, we cruised effortlessly at 30 knots, with an indicated fuel burn of 87 litres per hour. While not exactly Prius territory, that's excellent fuel economy for a 30-ton yacht.
Being well acquainted with Volvo-Penta's IPS system, the Predator 57's smooth handling wasn't really a surprise. But what was shocking was how quietly the boat ran, even at wide-open throttle and with both the salon roof and rear cockpit closure wide open. The aggressively raked windshield does a superb job of keeping both wind and noise out of the boat, while Volvo's IPS system is said to generate half the noise of traditional shaft drives.
Sleek and sporty, Sunseeker's Predator 57 is a revolutionary sport yacht that perfectly balances style with practicality. Little wonder it has quickly established itself as the fastest-selling model in Sunseeker's history, and become a coveted prize all around the world.
SPECS: Sunseeker Predator 57
LOA: 59' 10" / 17.95 m
Beam: 15' 5" / 5.52 m
Draft: 4' 3" / 1.275 m
Displacement (half load): 61,509 lbs. / 30,759 kgs
Fuel capacity: 578 gals / 2,200 L
Water capacity: 157 gals / 598 L
Accommodation: Up to 6 guests + 1 crew
Power as tested: Twin Volvo Penta 750 hp D950 IPS
For more information:
Canadian Dealer: Executive Yacht Canada – www.executiveyachtcanada.ca
Sunseeker International Limited – www.sunseeker.com