It was 1984 when Bill Taylor, an avid boater, recognized a need for a publication to bring the thrill of pleasure boating to Canadian enthusiasts.
With the input of a boating advisory group, Bill created Power Boating Ontario and began extensive promotion of the sport at boat shows across the country. Response was immediate and overwhelming. It was only a short time later when elite members of the boating industry implored Bill to take Power Boating Ontario to a truly national level.
Within a year, Power Boating Canada surfaced on newsstands coast-to-coast and became one of the most successful powerboat magazine launches in the country,
followed by its equally popular French-language sister publication, Les Plaisanciers, based in Montreal, Quebec.  Power Boating Canada, along with Les Plaisanciers, has evolved into the most prominent boating publications in the country. By delivering a high-impact editorial package, including extensive boat tests, exciting destination stories and technical how-to articles, both publications have taken leadership roles in promoting all aspects of the boating lifestyle.
The magazines are extensively involved with various marine organizations and have even expanded the awareness of performance boating by hosting offshore performance poker runs, which started in the late 1980s on Georgian Bay. And what began as an activity to further enjoy the thrill of speed, has evolved into a favourite pastime among performance boaters throughout North America. The poker run events have also become major contributors to local charities. In addition to countless contributions to many charitable groups, a special live and silent auction held prior to the Lake Ontario Hall Fame Poker Run for three years raised more than $200,000 for the Sick Children's Hospital For Sick Children.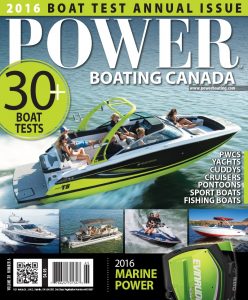 "It has been my pleasure for the past three plus decades now to help promote the thrill of the power boating lifestyle. I thank all of the members of the industry who participated in the success of the publications and special event programs," said Bill Taylor.
For more information about Power Boating Canada, feel free to browse our website further and let us send you a free sample copy.