Boat Test #1474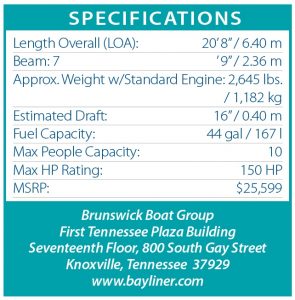 Bayliner has built a big business on a simple idea, get people out on the water at an affordable price. 
What began with a single model based on an innovative M-Hull design is rapidly expanding into an array of seven models in both center console and deck boat layouts. 
The E21 is the newest boat in the Element stable, slotting in below the flagship XR7, but offering a roomier layout than its 16-foot and 18-foot siblings. 
Up front, the forward-facing loungers are comfortable and integrated grab handles offer added security when underway. A filler cushion is available to transform the area into a large sun pad.  There's additional passenger space in the rear, where the seats on both sides allow for forward, rear, or center facing seating. Again, a filler cushion is available to create a second full sun pad.
The helm layout is simple but functional. It's worth noting the Element E21 does not have a full windscreen. This model is designed for the boater that likes to feel the wind in their hair. The captain is treated to a padded steering wheel, dual-purpose gauges, and side-mounted engine controls.  The port console features a glove box and a cooler storage compartment. 
The E21 come standard connected to a 115hp four stroke Mercury outboard. While adequate power for light duty, I'd be sure to option this boat with the available 150hp four stroke. It does add to the price, but I've never heard a boater complain their boat has too much power. Considering the Element E21 is rated for 10 people and can be equipped with a substantial watersports package, the larger engine is the better choice.    
By Steve Sansford