The essential guide to summer on the water is now online!
The Boating Ontario Directory 2016 version includes everything you need to know to plan your boating day trip or extended vacation afloat to a whole new waterway than the one you're used to: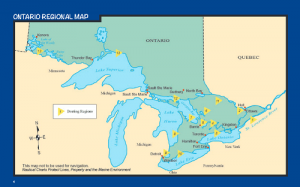 Ontario is a boater's paradise with a quarter million lakes, countless rivers and bays. The 2016 Boating Ontario Directory is your number one source of information for cruising, sailing, fishing and enjoying Ontario's fascinating waterways!
In addition to bringing you comprehensive listings of the several hundred marinas located across the province, every region is clearly depicted and illustrated to provide you with the best insight for your adventure. Explore a scenic passageway, spend a few days in an isolated anchorage or discover a new, waterfront community – a new exciting area is just a short distance away no matter what direction your compass is pointed.
So dive into the pages – either online, or you can pickup a printed copy at you local marina –  and read up on each of the thirteen very diverse – but equally exciting in their own unique way – boating regions all across Ontario. Then plot your course for a new area or waterway or just a new marina you've never been to before.
For your convenience, the marinas are listed in great detail with many of the amenities and services they offer to meet your every need and truly be your "home away from home".  When choosing a marina, perhaps consider patronizing one that's Eco Rated (highlighted in green in the listings) as their facilities have been inspected and audited to earn the highest certification possible towards protecting our environment.
Many marinas and town docks also serve as gateways to the local communities and local attractions they offer as perhaps a land-based change of pace.
If you don't have a boat yet, there's no doubt a Boating Ontario Dealer near you can show you options and get you into the right boat for your family and your needs
With endless waterways and convenient services just around the next bay, there's no better way to explore Ontario and spend time with your family than in a boat.
For more information, contact Boating Ontario at 1-888-547-6662, visit our website at www.boatingontario.ca or email info@boatingontario.ca