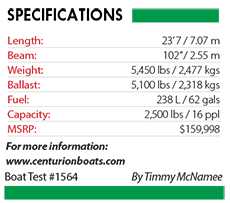 Centurion Boats rein as the Official Tow Boat of both Wakeboard and Wakesurf World Championships. Needless to say, the new-for-2019 Centurion Ri237 packs a serious punch when it comes to performing in both disciplines. With its World-Class wakes and waves and generous amount of options and features, there is nothing the Ri237 can't handle.
The foundation of this ambidextrous surf and wakeboard prodigy is the all-new Opti-V Hull. The Opti–V compliments to the genetics of the surf and wakeboard wakes by displacing more water with less ballast weight. Not only does this impact better fuel efficiency, its deep hull results in smooth handling through rough water, and a taller freeboard giving you the feeling of security in the interior.
At the helm, the side by side dash set up is two 6"x4" digital screens, and allows you the ability to multitask, conveniently displaying your choice of functions in front of you. With a hefty 5,100 pounds of available ballast for surfing, Centurions quick surf consummates the ultimate surf wave. The 3,000 pounds of sub floor ballast fill in under one minute with RAM fill. However, although this seems like a major plus side to owning a Centurion, if you opt for the pro package, you're looking at an extra five minutes to fill the additional bags. The versatility in the wave had me very impressed with the effortless capability to fine tune for any skill level of rider.
To cap off the 2019 Ri237, Centurion releases the Drop Zone Power Tower by Roswell. A fancy option for the Ri series, it lowers and raises at the touch of a button. Equipped with the Roswell audio system, the Centurion cross fire speaker set up delivers some of the loudest, cleanest marine audio I have ever heard.
By Timmy McNamee