By Craig Ritchie
Boat builders, dealers and marine media all gathered recently in Vancouver for the global debut of an all-new Yamaha four-stroke outboard engine, and the formal introduction of its revolutionary 425 horsepower V8 and Helm Master digital control system to the Canadian market.
Yamaha's T-25C is an all-new 25 horsepower four-stroke outboard designed from the ground up as a kicker engine. The clean sheet design fills a void in the market by providing the additional power and capabilities required by offshore fishermen operating increasingly larger and heavier boats. "Every fisherman on the west coast has a kicker engine," said Yamaha Canada product manager, J.F. Rioux. "For many years the 9.9 has been the go-to motor for that application, but with the larger and heavier boats that are now dominating the market there is a need for more power, and the T-25C delivers."
The new two-cylinder engine was designed specifically for kicker applications, with an equal emphasis placed on high torque and light weight. The T-25C is 28 percent lighter than Yamaha's existing T25A model, weighing in at a svelte 145 pounds compared to 201 pounds for the older motor.  It will be offered in 20-inch and 25-inch shaft lengths to fit a variety of offshore fishing boat models.
Rioux notes that while the new engine was designed for Canada's Pacific coast, it should also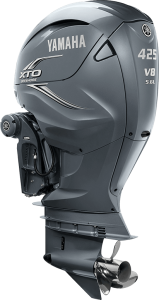 prove popular with anglers on other large water bodies, such as the Great Lakes region.
In concert with the global unveiling of the T-25C, Yamaha took the opportunity to formally introduce its breakthrough 425 horsepower V8 XTO Offshore outboard and its revolutionary Helm Master digital control system to the Canadian market, positioning all three offerings as a turn-key answer for powering today's offshore fishing boats.
I had the chance to run both of these new engines, and you can read my full "Hands-On Test Report" on all the new Yamaha product in the upcoming 33-5 issue of Power Boating Canada.  For more information visit https://www.yamaha-motor.ca