Friday Harbour, on Lake Simcoe, has announced a new CEO has joined their Executive Team as they get closer and closer to completion.
Through our uncompromising passion in creating the ultimate home away from home for you to consider, Friday Harbour is delighted to announce the addition of James DiRenzo to our Executive Team.
James' 30-year background in world-class clubs and resorts has made him the perfect choice for Friday Harbour. Most recently, James spent four years as the Chief Operating Officer at the Granite Club, guiding them to the achievement of Distinguished Emerald Club of the World status.
"Unlike all of the other projects I've had the pleasure to be part of, many of our residents will call Friday Harbour their second home," said James. "They'll be here weekdays, weekends, even stay for an entire season at a time or more, and I don't see providing them with life-enriching ways to spend their time as a job – I see it as a privilege and an honour."
"When you think about the world's greatest resorts, water is most often the common element," he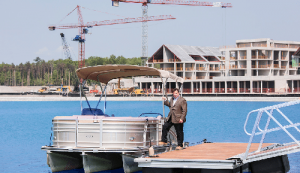 acknowledges. "People want a variety of activities from their resort experience and water is almost always a critical piece. From swimming, boating, watersports or simply relaxing lakeside in summer, to skiing and other snow and ice sports in winter, to a full complement of exciting year-round services, there will be something for everyone. We're offering fun and leisure with finesse and an incredible attention to detail."
James' background in many world-class clubs made him the perfect choice for Friday Harbour. "His passion for delivering an exceptional and customized resort stay makes him the perfect fit for the Friday Harbour executive team," says Friday Harbour Principal, Jim V. De Gasperis. "James sees the customer experience as a truly individual expression. From young couples to growing families and empty nesters, Friday Harbour is a multi-generational resort that caters to people from a dynamic variety of backgrounds. James' past success in creating and developing flexible customer service programs puts us in a perfect position to deliver on our unique vision."
James added, "One of the most critical guiding factors in the way we are designing our resort amenities and itinerary is the residential component. Unlike all of the other projects I've had the pleasure to be part of, many of our residents will call Friday Harbour their second home. They'll be here weekdays, weekends, even stay for an entire season at a time or more, and I don't see providing them with life-enriching ways to spend their time as a job – I see it as a privilege and an honour. I look forward to welcoming everyone to Simcoe County, Innisfil and Friday Harbour Resort in 2017."
For more information visit www.fridayharbourresort.com