Boat Test #1486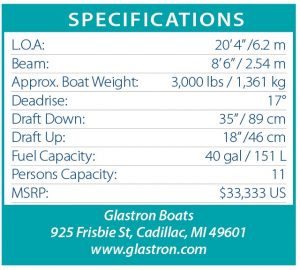 As I grew closer, the reason the new GDTX 200 twenty-foot deck boat can seat 11 passengers became obvious – the seats wrap all the way around the entire boat. The result is well supported backrests and plenty of leg room for your whole gang.  A u-shaped sofa wraps from the helm all around the bow and down the port side to the single in/out access step about mid-ships. A second u-shaped sofa wraps all around the stern to behind the helm seat.  Sliding down behind the wheel, I found the helm seat was positioned well down in the hull.  The generous swim platform is integrated into the hull and wrapped around the Yamaha outboard on our test boat leaving lots of room to sit and get ready to ski or wakeboard. 
As I left the dock, the boat reminded me of a stallion that couldn't wait to be let out of the gate.  At just a 3,000 pound boat weight, I wasn't surprized that the GDTX 200 leapt up onto plane on the SSV hull.  The low helm seat position revealed itself: this is a gentleman's race car reincarnated into a deck boat.  The hull hugged the corners flawlessly at all speeds and despite my best efforts I couldn't shake it loose or find a rattle or vibration anywhere. The ride is confident and quiet, as well as sporty and responsive.  Pure fun! It's quite possible that the driver may have more fun that those being towed. The passengers may need the grab bars that are well positioned around the hull.
Glaston's all-new deck boat line offers four models: sterndrive or outboard power choices each with or without a windscreen.   Take a close look, as well as an on-water ride, before you decide.                                      
By Brad Roberts