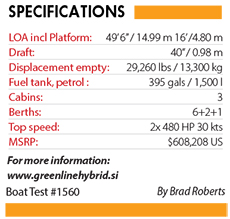 The Greenline Yachts 48 coupe is the result of repeated requests for a single level version of the company's popular 48 flybridge. She is a hybrid yacht combining the green energy created by the sun captured by solar panels built into the roof of the cabin, with traditional diesel power. True independence is achieved by not having to search for marinas to plug in at, but rather staying out at anchor as long as you like. The 48 Coupe is equipped with staggering 2.4 kW of solar panels on the roof which is equal to a small generator running all the time. "Having continuous and an almost unlimited amount of power onboard to run all the onboard appliances in silence, without using any fossil fuels, is not only much friendlier to the environment, but also significantly increases the quality of living onboard. And it is absolutely unique to Greenline Yachts," said Luca Meffle, Head of Sales and Marketing at Greenline Yachts.
Greenline Yachts are pioneers in the hybrid drive segment. The 48's hybrid drive is available with 2 x 14 kW electric engines with integrated 2 x 10kW generators in combination with twin Volvo Penta D3 220 HP diesel engines. Skipping the hybrid drive allows purchasers to upgrade the power of the engines to 2 x 480 HP with 6.7 liter Cummins engines and cruise at a higher speed.
Running on electric power, the 48 Coupe is cruising at 6 kts and with the range of about 20 NM with the 40 kWh Li-Po battery. Running on diesel with shaft drive, Greenline 48 Coupe will be cruising at 15 kts with 2 x 220 HP. Expected maximum speed with twin Cummins 480 HP engines is 30 knots.
By Brad Roberts