By Brad Roberts
It was an honour to receive in my email inbox a few weeks ago the invitation from Volvo Penta to attend their media unveiling of not one but six all-new products – just how new you'll see below – at their main test facility in Sweden.  I would be the only Canadian marine journalist invited, and once again Power Boating Canada would be there to bring the news to our readers.
As with every Volvo Penta event I've attended, the organization, hospitality, and friendliness was top-notch. I left Toronto at 6pm, flew all night landed in France and took a connector flight to Sweden, followed by a quick Uber ride to our host hotel.  At this point I'd been up for over 24 hours, but nonetheless joined some other journalists and Volvo Penta's Christine Carlsen for dinner at a top-rated local restaurant. As Christine gave us a tour through the streets of beautiful downtown Gotenburg, I made a promise to myself to come back and explore when I had more time. Sweden is the land of the midnight sun and at 10pm as we left the fabulous dinner it was still daylight out!
The next morning we boarded a Volvo-powered electric city bus for the ride out to Krossholmsvägen. We learned enroute that Volvo has been providing 600 Volt electric buses (that produce zero pollution) to the city of Gotenburg since 2009 – that's a 10 year track record with over 6,000 electric buses in service here and all over the world. On the way, as we pass a gravel quarry, Toby's comments on the several autonomous and semi-autonomous heavy industrial machines (front end loaders, massive dump trucks, etc.) that are operating 100% on electric power – even in the dead of winter.
Volvo Penta's vision is to be a world leader in sustainable power solutions, and it's clear that with these two projects alone they have thousands of hours of real-world experience and in-use test data that proves electric power is completely feasible. The limitation right now is battery storage capacity and infrastructure to recharge – it`s not the power that electric engines can produce. We arrive at Krossholmsvägen in the pouring rain and high winds, but it didn't dampen the spirits of any one of the seasoned marine journalists from Australia, North and South America.  Inside one of their large test facility buildings, temporarily transformed into a beautiful presentation centre, the Volvo Penta team rolled out the new announcements.
Six New Products
Over the course of the morning, we were treated to an in-depth product launch of: the second generation of Volvo Penta D4 and D6 diesel engines, a new IPS pod drive, an entirely new design duo-prop stern drive, joystick steering, and an exciting electric solution with a very promising future.  The weather was less than ideal for testing, or for taking photos, but the Volvo Penta team made sure that everyone got some time at the helm to run the new products. Here are my first hands-on test notes and comments. Watch for more detailed test to come in future issues as these new products show up in production boats very soon.
New D4 and D6 Engines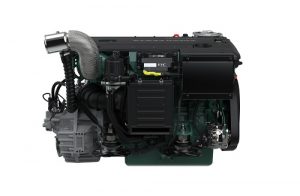 There are currently over 100,000 first-generation D4 and D6 engines in use all over the world. The second generation of these time-and-application proven engine is much more than a refresh. It was a complete rethinking and redesigning of many of the parts for make what is essentially two new engines. The goal was to deliver more power, greater reliability and lower cost of ownership.
The new 3.7 liter D4 and the 5.5 liter D6 engines are both designed and built solely for marine purposes. The new engines feature "a new engine management system, new fuel injection system, new turbocharger and a new supercharger," explained Petter Andolf, Chief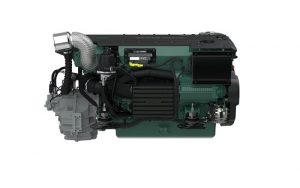 Project Manager for the D4/D6. "The cylinder head, pistons, and valves are re-engineered to withstand higher torque as well as meeting higher reliability and durability requirements." Plus they install in the same footprint as the previous generation making repowering a breeze. The D4 now has a maximum output of 320 hp, while the D6 boasts a maximum 480 hp – an increase of up to10% more power across the range, while being more fuel efficient – between a 1% to 7% improvement over the first-generation engines.
DPI Sterndrive
The original Aquamatic sterndrive was introduced in 1959. Six decades later, this new DPI sterndrive is in my opinion, will prove to be as absolute a game changer in the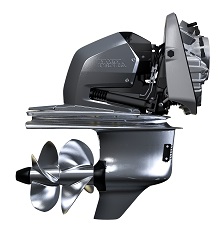 marketplace as the original!  I had the chance to test a twin installation of the new drive on a Jeanneau Leader 46.  Features include 12V or 24V configuration, steer-by-wire design (making for easier installation compared to cable-based or hydraulic steering systems); a hydraulic clutch inside the drive that is so smooth it shifts almost undetectable (it feels like shifting your car`s transmission into gear with no clunking at all); an oil filter for improved oil life expectancy; and a new top performance torque at 320hp with the new D4 engine and 440hp when coupled with the new D6 engine. With the duo props grabbing the water instantly, and the velvet smooth shifting of the new drive, I had to think twice to remind myself that I wasn`t driving an inboard.
IPS-650
The all-new IPS 650 pod was installed on a Jeanneau Prestige 460 Fly powered by twin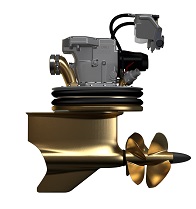 new D6's. It was my first test boat of the day in the rain and high gusting wind so it was a real test in the waters off the Volvo Test Centre.  I`ve always been impressed with the IPS drives (there are over 25,000 IPS drives already in use) and this new drive is no exception.  It features filters and oil that can now be accessed easily from inside the hull and the oil only needs changing every second year. This is a major time saver and the boat can stay in the water saving haul-out costs. Sensors read the differential oil pressure over the filters identify clogging of filters quickly and accurately and a water in oil sensor detects any ingress of water in an early state, preventing damages to the transmission. The prop shaft has a new seal, input bearing and upper shaft – and it`s assembled in a clean room assembly line for greater reliability. "All these enhancements result in a lower cost of ownership, increased reliability and a boost in power for the IPS System," said IPS Engineering Project Manager Lennart Arvidsson.
EVC2
Volvo Penta's "Easy Boating" concept took a leap forward with the introduction of the new EVC2. When the first version of Electronic Vessel Control (EVC) was introduced in 2003 it was already ahead of its' time. Now with EVC2, the future is a wide open book.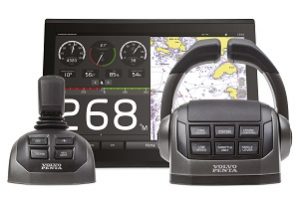 "The EVC system connects and manages the internal communications between the engine and driveline, levers and display screen – giving vessel owners integrated functionality and simpler operation, said Jonas Welinder, Production planner, Marine electronics at Volvo Penta.
I love the new On-Board Maintenance Assistant feature, which informs the boat owner of service dates, as well as keeping track of past servicing and diagnostic information, with a real time clock. The new steer-by-wire, that is now standard on both single and twin installation of the new DPI drive, eliminates the need for hydraulic fluid at the helm and makes available EVC features such as Low speed and DPS (Dynamic Positioning System) to a wider range of boat applications.
Joystick Steering
            Joystick Docking has been here for a few years now – the ability to control the engines at low speed with a joystick in order to safely and easily dock a boat.  Now Volvo Penta has taken that concept to full speed and introduced Joystick Steering – the ability to control
the engines at all speeds with a joystick – paving the way for a future boat that doesn`t have a steering wheel. Just let that sink in for a moment. A helm with just gauges and a joystick. Imagine how compact and unobtrusive the lower helm station could be on a fly bridge motor yacht. (Compared to a large stainless wheel in the middle of your salon.)
Ok, so I`m a traditionalist and on the test ride my initial reaction was `but I like steering a boat`.  Then I tried it. It`s so cool!  No more hand-over-hand, no more knocking your knees with the spokes of the big stainless wheel. One handed operation, move the joystick a little to the left and the boat leans softly into a port-side turn, push it all the way and the boat leans hard over into a tight turn.  It is smooth and effortless as you transition from a left turn back to a right turn as I imitated running up a slalom course into the wind.  This one is a big win for Volvo Penta.
Electromobility
Earlier this year Volvo Penta announced a commitment to offer electrified solutions in its marine and industrial product ranges by early in the next decade. To that end, they announced a collaboration with Fountaine-Pajot to demonstrate the latest prototype electromobility technology.  At the media event, they shared that as part of Gothenburg's ElectriCity project, Volvo Penta has partnered with ferry operator, Styrsöbolaget, to introduce electric propulsion to an existing ferry. We got aboard this prototype boat but photos were not permitted. It's a very exciting project with tons of future potential in both commercial and eventually leisure applications. And it's a part of Volvo Penta's commitment to be an ambassador for Clean Seas (https://www.cleanseas.org/).  Stay tuned – we'll share more as soon as we can.
We ended the day of testing by travelling by boat of course, to a fabulous dinner on Knarrholme Island in the archipelago, and the next morning at 4am I was headed to the airport for the flight home.  I can't wait to do further tests on these new products when they reach dealers' lots this coming summer. Watch for more detailed reports in upcoming issues.
For more information on all the new Volvo Penta products visit: https://www.volvopenta.com/marineleisure/en-en/home.html