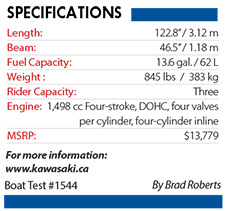 Kawasaki's STX -15F personal watercraft features an eye-catching lime-green-and-ebony deck colour that has crisp clean lines and eye-popping graphics that are carried down to the black composite race-bred hull measuring nearly 123 inches in length. That's plenty of running surface to deliver a comfortable ride for three passengers, but yet short enough to also deliver exciting single-rider performance when you want to go out for a ride on your own.
The helm features an all-digital speedometer, fuel level gauge, tachometer, oil level, trip, hour meter and water temperature gauge. Twin rear-view mirrors are mounted low leaving the handle grips clean and unencumbered, but this requires the driver to dip their head to see in most cases.
A full 160 horsepower performance is delivered by Kawaskai's 1498 cc DOHC 16 valve inline four-cylinder water-cooled engine with digital fuel injection. Again, there's more than enough power there to peg the digital electronic displays even with three passengers – or two riders with one enjoying the view from the end of the tow rope hooked to the standard ski hook. That power is respectful to the environment as well. The engine has earned a Three-Star Ultra-Low Emissions rating from the California Air Resources Board and it also meets the US Environmental Protection Agency's strictest standards. The direct fuel injection provides more predictable acceleration and excellent fuel economy, so that the large 62 litre fuel tank can keep you on the water for the entire day.
As one of five models in the jet-ski lineup, the STX-15F is packed with performance and luxury features, in a highly affordable package. The STX-15F comes with a full one year warranty, and the available Kawasaki Protection Plan extends this for up to seven years and unlimited hours at the buyer's option.
By Brad Roberts