Boat Test #1487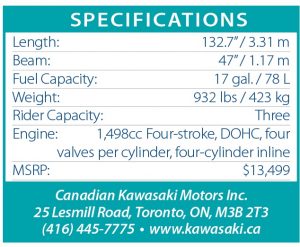 The Kawasaki Ultra LX the passenger personal water craft has it all: size, performance and price.  One of just five Jet-Ski's in the Kawasaki lineup, the Ultra LX offers many great features at a budget-friendly price point.
The metallic phantom silver deck is crisp and clean looking, mounted on an ebony-black composite hull that's a full 132.7 inches in length.  That's long enough to deliver a comfortable ride for three passengers, but short enough to also deliver exciting single-rider performance, within an impressive 13 foot turning radius, when you want to go off on your own or do some wave jumping.
Kawaskai's 1498cc DOHC 16 valve inline four-cylinder engine with digital fuel injection delivers 118kW @ 7,750 rpm.  That's more than enough power to peg the digital electronic displays even with three passengers on board.  It also enough power for watersports with two riders on board and one riding from the end of the tow rope hooked to the standard ski hook.  That power is respectful to the environment as well. The LX has earned a Three-Star Ultra-Low Emissions rating from the California Air Resources Board and it also meets the US Environmental Protection Agency's strictest standards.  The direct fuel injection into a 60mm throttle body provides more predictable acceleration and excellent fuel economy, so that the 17 gallon fuel tank can give you plenty of fuel to disappear for the whole day.
The Ultra LX is an all-around go anywhere cruiser that found the sweet spot between price, performance and function.  I like the Smart Learning Operation (SLO) mode that reduces the power so your kids can learn and you can relax (a bit).  It features excellent storage space with a total of 212 litres of room to take everything you could possibly want.
The Ultra LX comes with a full one year warranty, and Kawasaki offers an affordable protection plan that extends this to unlimited kilometers/hours of usage for an additional two, three or four years in addition to the manufacturer warranty at the buyer's option. Five years of coverage means five years of fun!
By Brad Roberts