Boat Test #1490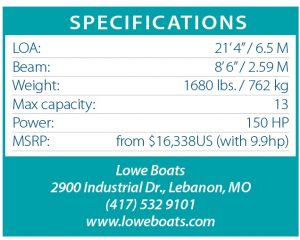 The Super Sport 210 is part of Lowe's mid-range line, providing a great compromise between performance and cost, while taking full advantage of all the advantages a Lowe-built boat has to offer. If you are looking for a standard and reliable pontoon boat, then look no further.
While the SS210 is not as expensive as many of the other boats on the market, it is most assuredly a quality product for excellent value. Lowe has been in the boat building business for 45 years, so they know a thing or two about manufacturing. In fact, Lowe has received 26 Customer Satisfaction Awards to date, more than any other aluminum boat builder in the United States. To consistently receive such positive reviews from customers means the business must be doing a lot of things right. 
The SS210 has a standard pontoon boat layout, with the helm station being midships to the starboard side, an 'L' bench to port and a chaise lounge to starboard, and another wrap-around bench stretching down the port side and around the stern. The folding bimini comes standard, it mounts midships and can cover most of the boat when fully extended.  There are three gates; at the stern, the bow and on the port side. The Super Sport is rated to carry up to 115 HP, floating on two pontoons. Standard features include everything you need to get out on the water, from navigation lights to a trolling motor plug and a total of 12 cup holders for all those guests. Options abound to allow for total customization of the boat to whatever needs or desires you may have.
The Lowe Super Sport 210 is probably not going to be the fanciest boat on the lake, but it is going to be a very solid and dependable watercraft. Regardless of why you may choose a Lowe, rest assured you are dealing with a top-tier company that takes pride in every aspect of their business, and wants people to get the utmost enjoyment out of their products.
By Rhys Weed