Twice the power.
Boat Test #1492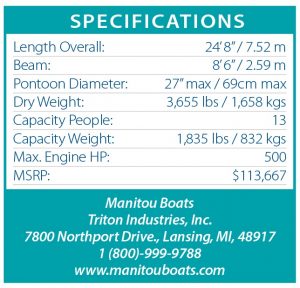 Manitou is well known for their industry-leading pontoon boats. Their boats range from top-end luxury to the very affordable, but this has always meant that the customer needs to decide price or comfort? Now, with the Encore line, Manitou presents what they call "Mid-Level Luxury", meaning you don't have to compromise. 
The SE model of the Encore line gives you a standard pontoon boat layout. This layout is hard to beat, which is why so many boats look this way.  There are four benches, one at each corner. with a straight portion and a corner seat. The Captain's chair is to starboard, with a reclining seat on the port side. There is also a table on the port side, and the bench forward of the table is reversible to face forward or aft. There is plenty of room for entertaining a large group, or for just lounging with a few.
With the Dual Engine model you are investing in a boat that has some serious power.  A second engine also provides superior maneuvering in close quarters, and the peace of mind knowing that if one engine has a problem, you always have a way to get home. The layout on the stern with two engines is also a perk, as it has the ladder on the centreline and an engine on each outer 'toon. You get a spacious swim platform that is accessed easily through the rear access door.
Manitou's Sport Handling Package (SHP) is a great way to increase the handling and performance of your boat. Instead of the standard two pontoons, there are three. The central pontoon is larger than the outer ones which creates a V-shaped underwater profile. This shape, known as deadrise, essentially mimics the design of a mono-hull. This allows much greater handling and increased ability to deal with waves and choppy conditions, while still retaining the advantages that pontoons gives, including shallow draft and a lightweight vessel. Additionally, each pontoon has lifting strakes which help the boat get up and go as quickly as possible. In addition, all SHP equipped boats come with SeaStar Power Assist Hydraulic Steering to ensure great control at all speeds.  Structural enhancements are also added to the design to handle the extra stresses or strains that are created with two engines, this helps to ensure the quality and longevity that is expected from Manitou pontoon boats. 
Manitou always strives to provide many options including the ability to personalize your boat. These options cover the whole boat; from pontoons to deck layout to seating material and anything else you may want to customize. Lighting, speakers and power supply are becoming increasingly popular, allowing you to also customize your nighttime experience. Almost every aspect on board can be personalized for your style or preference, Manitou wants their customers to get exactly what they come looking for.
There are a lot of pontoon boat companies out there, but only one of those companies has won the National Marine Manufacturers Association (NMMA) Marine Industry Award for Customer Satisfaction Index (CSI) 16 years in a row. And that company is Manitou.  By consistently providing excellent customer service, designing great boats, and building them with care, Manitou has managed to score at the very loftiest of levels when it comes to customer satisfaction. The Encore 23 is an excellent design from an excellent company, and will be sure to do you well for years to come.                                   
By Rhys Weed