Boat Test #1491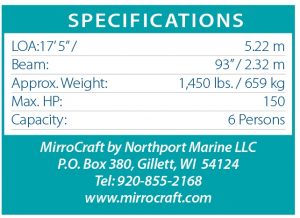 I had the chance to water test the MirroCraft Holiday 1768 model at Yamaha's Dealer Days this past fall. The trailer-size fishing boat sat tied to the dock as the morning mist rolled in off the water and the sun crested over the trees. I stood there taking notes, and sipping hot coffee.
The high walk-thru windscreen would be a welcome asset today as the morning air was crisp. The bow area featured a u-shaped seating area with cushions, a floor mounted seat base, stainless grab rails, and in-deck fuel fill with a "No E-15" sticker attached, and carpeted storage under the seats.
The helm and companion seats are very cushy pedestal seats with low backs that don't fold down. The helm featured black on silver gauges, a hummingbird graph, Jensen stereo, cupholder and a 3 spoke wheel. In front of the companion seat was a large glove box, cupholder and a grab handle.
The aft seat wasn't full beam, instead there's a walk through to the transom and port side mounted swim step/ladder, with lockable storage under the step. The flip-up seat back locked into place for sitting , or flipped-down to create a wide casting platform.  I found ample rod storage under the starboard gunwale, and gear storage under the helm and companion console.
The Yamaha 150 Vmax SHO outboard started instantly and we motored out into deeper waters. I recorded a time to plane of under 2 seconds – not surprizing for this engine and a boat that only weighs 1,450 pounds. The Vmax powered the Holiday 1768 to a top speed of 50mph at 6,100 rpm but I found a comfortable cruise speed at around 34 mph. The hull is silent – I had to look twice to ensure I was driving an aluminum boat – and there was no chine walk or cavitation.  
Overall the Holiday 1768, with the standard ski tow pylon is a great family package for water sports, fishing or just a fun boat ride. 
By Brad Roberts