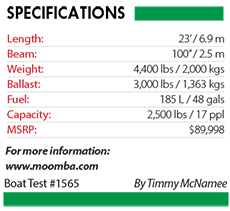 Moomba Boats is a value–conscious brand that delivers all the right features for your most enjoyable time on the water without having to spend a pretty penny to do so. With the 2019 Mojo re-designed hull, it brings you a whole new wake surfing experience like no other Moomba before. Its' signature hull design and interior functionality, allow you to enjoy some fun in the sun with the most popular standard features and options.
I was pleasantly surprised to see the Mojo include popular standard features like it's 7" color touch screen, wetsounds speakers, quick fold A3 tower, and glamorous interior LED accent lighting, and the infamous Raptor engines. The optional gator step flooring and non-skid gunnels really make entry and exit into the Mojo comfortable. The interior does feel less spacious than other models of its class with only a 100" beam, which definitely made seating feel tighter for your average boat crew. However, optional bimini surf storage and swivel wake racks assure you to have your equipment safe and out of the way.
A wave is a wave, and the Mojo does the trick. With the flow 3.0 surf system you have three actuators you can control direct from your touch screen and steering wheel. An optional upgrade to the G6 ballast, gives you six pumps, which equals less fill time so you can get on the water. I personally like the benefits of the optional surf pipe to expel your exhaust under and out the back of the wave. The rear facing bench and passenger backrest kit provide the reverse seating so your crew can get in on the entertainment behind the boat.
If you're looking for a boat that's going to deliver you the fun without the hefty price point, the Moomba Mojo has every necessity you'd require.
By Timmy McNamee