A Big Express Cruiser Built for Big Water.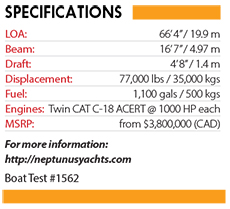 The Neptunus 650 is a express cruiser built for big water. It's Kevlar-reinforced hull, inch-thick windows and water-tight engine room are among the features designed to keep this self-sufficient yacht safe and dry.
Boarding from the aft is a large hydraulic swim platform designed for a 14' tender with room left over to access the hatch leading to the crew space and engines. Through the hatch is a single berth for a crew of one with hull-side window, fridge, sink, and head.
Twin 1000-horsepower CAT C-18 engines provide the power for this 77,000-pound yacht. To reach plane in seven seconds and reach cruising speed six seconds later. It will top out around 33 knots and has a CAT recommended cruising speed of 26 knots with a 280Nm range. Range can be extended dra-matically with low-speed operation. At a slow cruise of 10 knots, this Neptunus can stretch well over 700 nautical miles between fill-ups.
The engine compartment features 6-foot, 4-inches of standing headroom. Every thru-hull fitting is located within the watertight engine room. All service points are located on the inward side of the engines along both sides of the 26-inch wide walkway. A ladder leads to a second access point in the aft deck for easier access when underway.
Teak steps on either side of the cockpit allow access to 17-inch wide walkways with high railings for safety. The walkways also feature drains just above the steps to help prevent water from flowing into the cockpit. Both tanks can be filled from either side; a handy feature on a 66-foot boat.
The helm is an impressive layout of high-resolution screens and leather-wrapped surfaces. The left-most panel is an annunciator offering quick visual indications of various onboard systems, including ignitions, active electrical circuits, and alarms. Primary navigation information is handled by a pair of 16-inch multifunction displays. Engine status is displayed on a 12" CAT display.
A convenient side panel allows for seated control of the VHF radio, autopilot, and the forward displays. Dual helm seats keep the captain and companion comfortable on long cruises. The most impressive feature of the control systems is the remote yacht controller; a small, hand-held device that allows for control and maneuvering of the vessel from anywhere on the boat.
The aft cockpit features a centre bench with a polished wood, dual pedestal table. The hardtop stops short of covering this part of the deck, but a powered awning can be extended for shade. There's a grilling station on the port side and a sink and food prep area to starboard.
Entry to the main cabin is level with an integrated drain in the deck to assist with runoff. Inside the main cabin, Neptunus somehow managed to include 7-feet, 8-inches of headroom. The high ceiling even includes a huge opening skylight. Seating and storage are everywhere. Wide-plank engineered flooring runs from bulkhead to bulkhead, even under the furniture. A flatscreen television lowers from overhead and there's a subwoofer tucked into the sofa.
The galley is a massive area with every possible feature including copious amounts of counter space, microwave, convection oven, dishwasher, and stainless steel sink. A dinette is opposite and the dishware is included with the boat.
The lower level features a three-staterooms, three-head layout with six-foot, six-inches of headroom.
By Steve Sansford