If there is such a thing as the quintessential Canadian fishing boat, then the 16-foot aluminum V-hull must surely be it. Enjoyed and loved by anglers all across Canada, the 16-foot aluminum V-hull offers just the right balance between being big enough to accommodate the crew and handle a bit of rough water, yet light enough to be easily towed by a mid-sized vehicle, compact enough to fit in a typical garage, and easy to launch at boat ramps in poor shape, or where there are no ramps at all. And best of all, it does all this without requiring a second mortgage on the house.
Among the 16-foot V-hulls that dot Canadian lakes and rivers, an overwhelming number of them are built by Smoker Craft, and it's easy to see why. The company began building its aluminum V-hulls in 1963, at a time when most boats were still made entirely from wood. Their strong, lightweight, maintenance-free aluminum boats not only did the job better than wooden boats did, but also offered much greater durability and longer life. This exceptional value earned Smoker Craft a loyal following right across the country. It's a level of loyalty that grows every year on the strength of the company's heritage of constant innovation.
Nowhere is this commitment to continuous improvement more evident today than on the all-new 2017 Pro Mag series. Available in 16-, 17- and 18-foot models with a choice of single or dual console designs, the Pro Mag represents the top of the Smoker Craft lineup. Here in Canada, the 16-foot, dual console 162 model is going to win a lot of friends, being the right size and with the full walk-through windshield that provides so much added comfort when boating early or late in the season.
As you approach it at the dock, the 162 Pro Mag looks very much like so many other 16-foot aluminum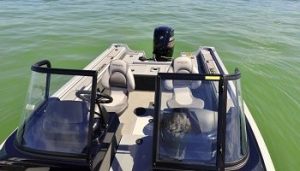 fishing boats, with its large raised bow casting platform, generously proportioned main cockpit, and a second raised casting platform in the stern. But take a closer look and it quickly becomes clear that the 162 Pro Mag is on a whole other level.
Let's begin with that large bow casting deck. The most obvious different is that it's vinyl, rather than the expected carpet. The soft-touch vinyl surface is far more durable than marine carpet, it dries faster, and it's a whole lot easier to keep clean, so someone was thinking there. Of course, there's a deck pad to accommodate a bow-mounted electric motor, and a matching bow panel with 24-volt outlet and trim switch for the main engine is conveniently mounted directly below on the forward bulkhead. A large hatch to the port side reveals a 56.7L aerated livewell, while a corresponding hatch to starboard opens to provide access to a large storage locker. A Swivel-Eze aluminum receptacle mounted in the center of the bow deck accommodates a removable pedestal-mount fishing seat. What isn't obvious at first is that the deck height is just about perfect, being elevated sufficiently to provide great visibility when casting, yet low enough one can easily deal with hooked fish without having to reach precariously over the side. You don't notice this till you actually start fishing, but not having to reach every time you land a fish is a huge comfort, so kudos to the designer who took the time to get this right.
Step down into the main cockpit and the end of the bow deck opens on twin gas rams to reveal a large in-floor locker that accommodates six rods in individual tubes. The twin gas rams really are a nice touch, allowing anglers to use both hands when storing or retrieving rods, and providing far more secure support than is possible with just a single shock. Take a step to either side and you'll notice a second lid in the cockpit floor, which raises to reveal storage for an additional five rods, again in individual protective tubes.
Our test boat included a new feature for 2017 in the form of Smoker Craft's new Yarblow storage locker ventilation system. Controlled from a switch on the dash, the blower system circulates fresh air through the rod lockers and major storage spaces, helping to dry any gear that's put away wet. This is a big deal on a fishing boat, where pretty much everything is put away wet all the time. The system pumps fresh air through the closed spaces beneath decks to dry tackle quickly, eliminating the traditional rust spots on fishing rod guides and the mildew smell that all anglers know all too well.
The flooring in the main cockpit on our test boat was a stylish vinyl Sea Weave, with snap-in carpet available as an option for those who prefer it. Personally, I'd stick with the Sea Weave. It's textured surface provides a secure, non-slip grip on even wet feet while remaining gentle and comfortable. Like the vinyl bow deck, it's a lot easier to clean than carpet, and dries in minutes.
The big, black-framed, walk-through windshield protects cockpit occupants from the cold breeze while underway, something that serious anglers will appreciate when running long distances to their spots early or late in the season. Although tall when viewed from the cockpit seats, the windshield sits at a comfortable level when you're up on the bow deck, and doesn't interfere with casting at all. That isn't the case with some other boats in this category, so again, kudos to the engineering team that obviously either went fishing themselves or spent a lot of time listening to their customers.
Both the driver and passenger consoles are neatly formed from sculpted  fibreglass. Passengers will appreciate the stainless steel grab handle thoughtfully mounted along the front face of the passenger console, along with the huge glove box up top and equally generous storage compartment found in the console base. The automotive-style helm console places all key instrumentation right up top where the gauges are easily visible, while still providing plenty of space for aftermarket electronics. Our test boat had a Lowrance Hook 5 flush-mounted into the cockpit centre, and this can be upgraded to a built-in Lowrance Elite Ti, HDS-7 or HDS-7 LSS if desired. Humminbird units up to a Helix 9 DI are also available, and install on a RAM mount. The standard stereo is a great sounding Infinity PRV250, which is upgradable to a Sirius-equipped PRV350 model.
The seating in the 162 Pro Mag deserves special mention. The boat comes with two deluxe pedestal-mount seats with wood-free construction and no-pinch hinges to protect stray rods and finger tips from harm. The driver's seat adds a sliding base just like a car, making it easy to adjust the distance to the helm so it's perfectly comfortable for drivers of all different sizes. There are six seat bases in all, so you can move them around as needed.
The gunnels also deserve special mention on this boat. Look beyond the top-loading rod lockers along each gunnel and you'll note the gunnel cap extrusion has been designed with a neat internal track, allowing owners to mount all sorts of accessories – from rod holders to downriggers and more – wherever they're needed, and without having to drill a single hole anywhere in the boat. Called the Integrated Track System, or IGTS for short, this brilliant addition adds huge value to the Pro Mag. It's very much the sort of innovation that, once you use it, you'll wonder how you ever got along without it. The gunnel cap is also lit from inside, casting a soft, blue-tinted glow to outline the perimeter of the boat without affecting your night vision. Talk about a great addition for fishing after dark, or even just for enjoying a late-night cruise under the stars.
At the transom the 162 Pro Mag has a second raised casting deck with a seat base up top, and a hatch to access the massive 94.6L aerated, recirculating live well to the port side. A raised lip surrounding the engine splash well provides an added measure of safety for anglers standing on the rear deck, while additional compartments beneath its surface provide still more storage spaces for tackle and other gear. The amount of storage space is truly impressive for a 16-foot boat.
With its long list of standard features, the 162 Pro Mag comes tournament-ready right from the factory. But a carefully considered option list allows owners to personalize their Pro Mag just as they like. Some of the more popular add-ons include the addition of two-bank or three-bank onboard battery chargers, a mooring cover, the aforementioned snap-in carpet, and a custom Dowco ratchetable trailering cover.
Although rated to handle outboard motors of up to 90 horsepower, our test boat came rigged with a Mercury 75 four-stroke. Smoker Craft's high performance Hydra-Lift hull is well known for performing well with less than maximum power, and this was evident in our sea trials. On a very hot, humid August afternoon with a full tank of fuel and three big guys aboard, it was refreshing to get the boat up on plane and enjoy a bit of air flow. The hard reverse-chine on the Hydra-Lift hull planes the boat easily, while keeping the bow down to maintain proper visibility for the driver. Time to plane with zero trim was pretty much three seconds flat, and a hair under three seconds with the engine trimmed fully in. What was truly surprising was our top-end speed at wide-open throttle – 47 mph on the GPS. That's really fast for a heavily loaded 16-foot boat on a sweltering hot day, and indeed it's really fast for a 16-footer in any conditions. At maximum power, the 162 Pro Mag is a legitimate 50 mph boat, and this speaks to its hard-core fishing DNA. In a tournament, getting to and from those distant hot-spots can make all the difference.
For more casual anglers, it isn't the Hydra-Lift hull's speed that enchants so much as its nimble handling when underway. This boat is so much fun to drive, it simply goes wherever you point it without fuss or drama. It simply shrugs off rough water and boat wakes, tracks straight as an arrow with its five-keel design, and does it all while delivering shockingly great fuel economy. Little wonder so many aluminum V-hulls across Canada wear that Smoker Craft nameplate.
The 162 Pro Mag is a versatile, capable and spacious boat that's equally at home winning the weekend tournament or hauling the kids around on an inner tube on a hot summer's day. It's easy to tow, it stores in a garage, and represents amazing value in a versatile, well made aluminum V-hull that's sure to please.
By Craig Ritchie
Smoker Craft 162 Pro Mag
Length: 16' 5" / 4.93 m
Beam: 91" / 2.27 m
Dry weight: 1,010 lbs. / 459 kgs
Passenger capacity: 5
Fuel capacity: 90L / 24 gals
Maximum power: 90 hp
For more information: