A dog and a Jet Ski, what more can you ask for? But not every dog is so fortunate – some do not have Jet Ski's…. actually some dogs do not even have "forever" families.
This ride is in support of Carter's Forever Rescue & Sanctuary www.cartersrescue.com; Presented by Energy Powersports and TorontoPWC, and is sponsored by MD Marine Insurance and LevelSix.
Carter's is a registered Canadian charity located in Muskoka, dedicated to ensuring all surrender and rescue dogs, regardless of breed, are in safe, loving and caring homes.
In order to accommodate our large group of Jet Skis, we have booked exclusive usage of the Muskoka Wharf Pavilion and docks for our lunch break. This space offers us great facilities.
Your $30/per rider and $20/ per passenger donation includes:
– Pizza lunch (at least 2 slices)
– Bag of chips
– Baked goods
– 2 drinks (bottle water and/or pop)
– Use of the Pavilion and docks space
There is no launch fee at this location.
Payment can be made in cash on the day.
Silent auction to be held during the lunch stop.
100% of the proceeds from this event will go directly to the charity to support their immediate needs.
If you wish to support Carter's Rescue further, they are always in need of the following items:
– Dog beds, Nyla bones, Leashes, Martingale collars
– Bleach, Laundry detergent, Linens
– Grain free food
Saving one dog will not change the world, but surely for that one dog the world will forever change
Ride Details:

Launch: Muskoka Wharf Marine (295 Steamship Bay Rd, Gravenhurst)
Time: June 29th @ 10am (on the water for 10:30am)
Charity Lunch: Muskoka Wharf Pavilion (non-riders are welcome to hang out)
Ride Plan:
Riders will be split into 2 groups. "A" will start first and will go at a faster pace. "B" will start 15 minutes later and will keep a more moderate pace.
Group A: 10:30 – 12:30; Group B: 10:45 – 12:45:
Loop around half Lake Muskoka enjoying the sights of this beautiful lake.
12:30 –2pm: Charity lunch, raffle and meet and great with some rescue dogs (gas stop) for both groups.
Group A: 2:00pm – 5:00pm; Group B: 2:15pm – 5pm: Loop around the other half of the lake.
Questions: events@torontopwc.com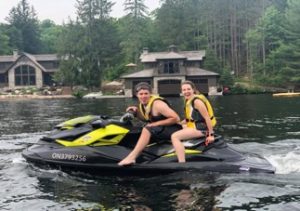 Our ride waivers are paperless. Anyone who intends to participate in a planned ride needs to sign a mandatory electronic waiver.
You will only need to complete the waiver once a year. Returning riders can simply renew. Please help use avoid congestion at the launch and possible ride delays, and sign the waiver in advance (mobile enabled):
https://www.waiverelectronic.com/render/templateByRefId/5aeba68aad4c3f0135345aa3