Twenty feet of awesome.
Boat Test #1504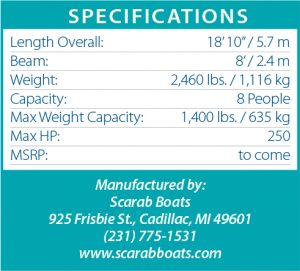 Scarab's 195 ID jet boat measures in at just under 20 feet and with the options available, you can tailor this sporty watercraft for whatever you have in mind. You can trick it out for tow sports with the Wake Edition Package, giving you a tower, rack and ballast system. Or maybe you want to go for an entertainment platform with the Premium Sound Package with an amplifier, speakers throughout and a remote control on the stern. A third package option is the Digital Speed Control which upgrades some of the automatic modes onboard, keeping life simple for you on the water.
Scarabs boats are propelled by a water-jet system, as opposed to a more traditional style of external propeller. The engine drives a high-volume impeller that sucks up water and shoots it out the stern at high speed and the articulating scoop (or bucket) on the stern provides control. For those unfamiliar, it can be a bit learning curve, but once you are comfortable on a jet drive they are a total blast. Jet drives are also excellent for recreational users for a number of reasons. First, and most importantly, they are very safe for swimmers as there are no propellers or moving parts to cause injury. This fact alone makes a jet boat an excellent option for any kind of tow sports. A second point in their favour is that jet boats allow for great shallow water handling, the jet doesn't protrude beneath the boat and there isn't a fragile propeller or outdrive to strike on rocks and logs. Lastly, the responsiveness and power you get from a jet drive is outstanding, creating an incredible ride that is hard to match with traditional propulsion systems.
Scarab brings their jet drive systems to another level with the iNR (Intelligent Neutral and Reverse). This advanced system incorporates a number of features that enhance the experience and alleviate the control issues that can occur with jet drives. iNR has fully electronic shifting, making the switch from forward to reverse virtually seamless. There is an easy calibration for the 'neutral' position, meaning it can be changed on the fly. Lateral thrust is also readily controlled, which means that low speed maneuvers and tight dockings become a breeze.
The 195 ID features a somewhat traditional design that efficiently uses every inch avail-able. The bow section features two forward facing seats with well-padded seatbacks and stainless grab bars. A centre aft-facing seat would be great for smaller kids when cruising at slower speeds. The twin Captain's and co-pillot seats are low back buckets that swivel to allow everyone to join the conversation that's happening on the u-shaped aft bench seat that also features great back support on the sides and transom. Step over the transom and two aft-facing seats make a great spot to get your gear on before moving down to the well-added swim platform. Forty years of experience go into the selection and installation of everything from the upholstery to the touch-screen controls. Confident in the quality that is delivered, Scarab backs their boats with a comprehensive warranty that includes lifetime coverage for the hull structure and a full five years for any osmosis issues.
An additional perk that Scarab provides is that a custom trailer comes supplied standard with all of their boats. Even if you intend on leaving your boat in the water during the sea-son this is a great value that is sure to come in handy at some point.
The 195 ID is a sporty boat in a tight package. With great looks, serious capabilities and the excellent craftsmanship of Scarab, you're sure to be thrilled with one of these at your dock.
By Rhys Weed