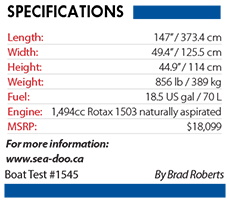 For 2019, Sea-Doo adds a brand new model to their personal watecraft lineup: the Sea-Doo Fish Pro. The Fish Pro is the only watercraft on the market that was purposely built for fishing.
Let's begin with an extended 11.5" longer deck length for improved stability in any water conditions, a removable 51 litre LinQ Fishing Cooler (with a recessed work surface, four rod holders, trolling slots, tackle and bait storage), and a bench seat and angled footrests on the inside of the gunwales for stability and comfort. Storage wise, you will find an easy to access forward compartment for lunch and dry clothes, a watertight glove box for your phone (with USB charger), and a smaller cooler aft plus space to bring a jerry can of extra gasoline. The Garmin EchoMap with an in-hull transducer that uses CHIRP technology for high definition images, located on the helm above the right handlebar, provides excellent navigation and fish finding capabilities on the 6-inch colour screen within easy reach whether you are cruising or fishing.
Yet still, the Fish Pro is all Sea-Doo. The ST3 hull coupled with the Rotax 1,494 cc naturally aspirated engine produces excellent acceleration and dream-chasing top speeds. Plus there is a trolling mode with nine pre-set speeds. The Fish Pro features both iTC and Electronic iBR, and it's got a fold down re-boarding ladder. It's not the fastest watercraft on the market, but it'll get your heart rate going.
Versatile for fishing or convert it back to a recreational watercraft, the Sea-Doo Fish Pro comes in at a price point much lower than any other fishing craft, and with an ultra-shallow draft it will allow you to gain access to places that other propeller-powered boats cannot, plus it's easily garageable and easy to maintain.
By Brad Roberts