Smoker Craft's Newest Offshore Fishing Rig Is Built For Big Water.
Boat Test #1506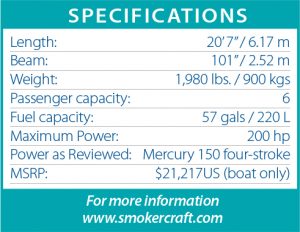 The all-new Phantom X-2 from Smoker Craft might just be the company's most capable big-water fishing boat yet. Measuring 20 feet, seven inches in overall length and riding on a beefy 101-inch beam, this all-welded boat is built like a battleship with hefty .160 gauge aluminum plate on its hull bottom and substantial .125 gauge plate used for the gunnel sides. No less than four lifting strakes help the big Phantom stay on plane in rough conditions while requiring less power, and its unique dual stage center run-ning pad uses an unusual triangular design for quicker hole shots and easier planing with less horsepower, yet without sacrificing han-dling when running at speed.
Like the other members of the Phantom line, the new X-2 is built for serious offshore trolling, with a deep, open cockpit that fea-tures plenty of room in the stern for wrestling big fish. Wide, reinforced gunnels make it easy to mount downriggers anywhere, while unique in-gunnel storage shelves keep can-nonballs, line releases and other essential gear securely stowed while running to your favourite fishing spots. Coaming gunnels with watershed channels keep spray out of the boat, while the full vinyl floor provides a secure, non-slip surface that wears like iron. Toe holds are a thoughtful feature that will be appreciated by every offshore angler.
The welded safety glass windshield allows passage into the bow through its center panel, where the raised front deck makes it easy to secure lines when returning to port. Chrome diamond plate on the bow pad, and on the surface of two hatches leading to in-deck storage compartments, is a classy touch. The windshield does a superb job of protect-ing occupants from cold breezes, a welcome benefit when fishing early or late in the year.
The Captain and navigator ride on com-fortable low-back Captain's chairs with swivel bases, full recline and fold-down arm rests. Passengers ride right behind them on a pair of inward-facing bench seats. The two cen-ter seats don't only fold down, they can fold open as well, to reveal huge storage compart-ments in their base. There's still more storage in the centerline in-floor locker as well.
The passenger console features an over-sized glove box at the top, providing a secure space to stow wallets, cell phones and the truck keys while out on the water. The flat-topped helm console is no-nonsense, with clear black-on-white gauges and a beefy black deluxe steering wheel. With the high raked windshield, this leaves plenty of room for mounting aftermarket electronics.
What's new on the X-2 is the integration of Smoker Craft's Dual Track Integrated Gunnel Track System (IGTS), which allows anglers to easily mount accessories like rod holders anywhere on the boat, and without drilling a single hole. The X-2 also benefits from a new raised ring deck that increases interior depth by a full three inches.
With its battleship-like build and rugged look, you don't expect the Phantom X-2 to be a real speedster. Yet here too the big Smoker Craft surprises. The torque-rich Mercury 150 four-stroke on our test boat popped the big Phantom on plane in under two seconds, and quickly propelled it to a top speed of about 45 mph. It's not a rocket, but it will get you out to the fish and back home again quickly enough.
Looking for a durable, versatile big water boat? Smoker Craft's all-new Phantom X-2 has a lot to offer.
By Craig Ritchie