Boat Test#1502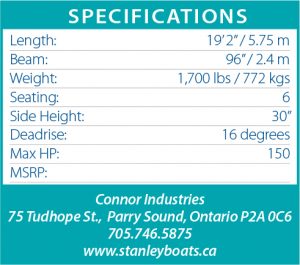 Anyone who's spent time boating in Parry Sound, one of our country's greatest boating destination, is no doubt familiar with Stanley Boats. They may not know the name, but they've certainly seen the boats. The shores and islands of Georgian Bay are home to plenty of Stanley models. The glimmer of their all-aluminum hulls standout amongst the bright gel coat and painted met-als of the bigger brands. They're a Canadian success story, building welded aluminum boats since 1982.
The Islander series is designed to be the SUV of the Stanley fleet and the 21 DC sits right in the middle of the lineup between its 19-foot and 23-foot siblings. Stanley says this boat is aimed at both the pleasure operator and the sportsman. It's a wide, deep boat, ideal for cruising the waters of Parry Sound and the islands, as well as any other body of water you want to splash it in. There's seating for six behind a wrap-around windscreen and bow and stern railings are available for extra security. A full cushion package is available to increase comfort.
For the fishing enthusiast, the 21 DC fea-tures wide gunnels for mounting downrig-gers and accessories. This model is rated for a 150hp outboard and performs well thanks to its 16-degree deadrise, lifting strakes and Sea Star hydraulic steering. The outboard is mounted to a motor bracket and fed from a built-in 30-gallon fuel tank, which gives the boat a great range.
The hull is welded from 3/16" aluminum, making for a strong boat, which tips the scales at 1,700 pounds. While not heavy for an alu-minum boat of this length, considering the utilitarian design and practical features, it's basically a solid chunk of heavy aluminum shaped into a boat and built to outlast any-thing else on the water. There's a reason why Stanley boats are popular: strength, versatility, longevity, and performance.
By Steve Sansford