Boat Test #1485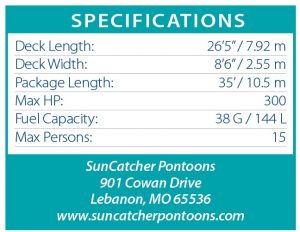 SunCatcher Pontoon boats are built by G3 Boats in Lebanon, Missouri.  I got to test the 326SS in their Diamond Elite line this past fall on Lake Simcoe.
Stepping on board at the stern, the large swim platform and beefy and tall stainless tow bar, that stood well up over the outboard, immediately told me this boat was meant for fun water sports.  Of course the 300hp Yamaha outboard might also be a clue!
Stepping through the stainless centre-line access gate, my first reaction to this boat is that it is ready for a party! Black side panels, bright stainless rails aft, wide plank wood-look grey vinyl flooring and LED lights all along the floor and in speakers and sub-woofer brought a dance club atmosphere to the 326SS.
Aft, the access gate is flanked by two very wide sunloungers, each almost wide enough for two to cuddle up on. Amidships, the wonderful raised helm station with high-back Captain's chair offering  great visibility, is positioned opposite the l-shaped port sofa. Forward, two more sofas increase the seating capacity to a total of 15 passengers. 
My notes made, fingers tingling from the cold, we were ready to head out. The four stroke Yamaha 300 V6 254.4 cubic inch outboard purred as we left the dock.  Once past the low water markers, I pointed the bow into the wind and hit the throttle.  We don't usually measure hole shots times on pontoon boats, but if this 326SS had one, it would be under 3 seconds!  I recorded a top speed of 44mph at 6,000 rpm, and a very comfortable cruise speed of 24 mph at 3,500 rpm.  What's more impressive than the numbers is the feel behind the wheel. Running across the waves, quarter to the waves and downwind purposely to see the difference, I couldn't find a single instance where the G3 SunCatcher hull flexed or moved at all – even when I pushed all 300 horses into it. It's a solid confident feel, and a dry and exciting ride! 
By Brad Roberts