Versatile, well made, and unbeatable value.
Boat Test #1509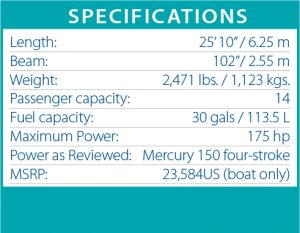 This must be an enjoyable time to work for SunChaser. Launched as a value line of pontoons targeting entry-level buyers, the brand has been steadily spreading its reach further and further upscale. With the launch of its all-new Geneva series for the 2018 model year, SunChaser has made it clear that they just don't have something to offer first-time buyers, they're ready satisfy even the most discriminating customers.
The Geneva Cruise 24 LR DH follows a traditional four-lounger floor plan – it's the execution and attention to detail that sets this pontoon apart. That starts on the beautifully designed exterior fencing, which is painted to a deep gloss finish and enhanced with bright D-rails. It's a look that's contemporary yet clas-sic at the same time, giving the boat a fresh appearance that won't seem dated five years from now.
Each of those big wrap-around lounge seats sits on a rotocast base with a large stor-age locker, accessed by flipping the seat cush-ion up and out of the way. Four stereo speak-ers integrated into the seat bases – two up front and two more in the stern – provide impressive audio quality, whether tuned in to the radio or streaming tunes from a cell phone or other device.
One of the best things about SunChaser's plush lounge seats is that the seat backs are higher than most, extending well above the fencing. This provides passengers with much greater comfort and support regardless of whether they're facing forward, facing aft or facing inward. It's a small thing that's easy to miss on the showroom floor. But step aboard the boat and take a seat anywhere, and the added comfort is immediately obvious. This also gives the boat far greater versatility.
Both bow and stern passengers can eas-ily install a removable, pedestal-mount table between the loungers since SunChaser thoughtfully provides the corresponding bases in each end of the boat. The standard flooring is thick 22-ounce marine carpet, but among the numerous options for this boat are a range of alternate flooring materials, including the delightful Sea Weave that was installed on our test boat. Sea Weave offers the best of both worlds, being as tough as vinyl yet as comfortable as carpet. Plus, it dries fast and is much easier to keep clean.
The driver and companion ride on pedestal-mount, swiveling Captain's chairs with fold-down arm rests. The driver's seat also slides, allowing it to be adjusted for drivers of all heights. The passenger gets a small con-sole along the port side with a built-in bever-age holder, while the driver gets the beauti-fully sculpted fibreglass helm. The dash is clean and uncluttered, with all the primary gauges positioned in a neat cluster under a small, but effective wind screen. The Gucci steering wheel adds a real touch of luxury here. Overhead, a full bimini top keeps the sun at bay.
The Geneva Cruise 24 is rated to handle outboards to 175 horsepower, and I was pleased to see a Mercury 150 four-stroke mounted on our test boat. It's a great match, pushing the big Geneva to around 40 mph. Handling at all speeds was very good, provid-ing a smooth and truly enjoyable ride.
Pontoon boats continue to grow in popu-larity each year, and that's largely due to the comfort, versatility and unbeatable value provided by boats like SunChaser's Geneva 24 LR DH. Buyers looking for a well made, all-round family boat will love it.
By Craig Ritchie