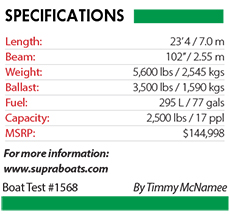 I came. I saw. It conquered. The 2019 Supra SL is one serious machine when it comes to throwing incredible wakes. With vigorous new gel lines, convenient sub floor ballast, and industry leading innovation throughout, the company that has earned 13 CSI awards brings you premium style and effortless func-tion throughout the 2019 Supra SL.
All new for 2019, the SL's dash and interior were upgraded to deliver prominent style and ease. The all new Vision Control System is set up in three advanced touch screen displays allowing you to have one touch access to every control – wake, surf, ballast, media and accessories. Toggle between boat information, audio, live camera feed and GPS navigation. The optional toggle mounted levers and steering wheel control allows you to control all functions on your boat and tune the perfect wave.
Premium JL audio now comes standard for all Supra models, and is lavishly highlighted with the RGB lighting feature, illuminating the speaker rings, floor, panel, and tower lights so you can ride in style when the sun goes down. Bow and rear transom filler cushions are an available option, and combined with the optional flip-back sunpad seating, and rear facing passenger seating, you have unlimited comfort to enjoy your day on the water. Optional Chill Tech vinyl allows you to choose trendy darker interior colours that stay cooler in the sunlight so you can relax and lounge comfortably.
The Supra Surf Swell system is a tab system that allows you to fine tune your perfect wave. I was impressed with the versatility in the waves, and the ease of use when operating the Vision Control System. Paired with the standard 6.2 L Raptor engine by Indmar, you'll have wakes, waves, and plenty of push for days of fun.
The Supra SL did an outstanding job with performance in all areas, proving there is nothing this boat couldn't conquer.
By Timmy McNamee