A premium pontoon for those who appreciate the finer things in life.
Boat Test #1511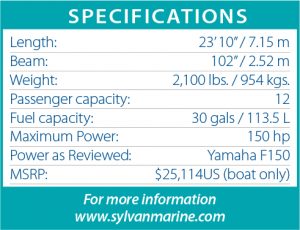 While plenty of boat builders have jumped into the red-hot pontoon market in recent years, Sylvan has been building them since the company first opened its doors back in 1947 on the shores of the company's namesake Sylvan Lake. More than seven decades later, Sylvan remains a pioneer in pontoon design, building a wide range of boats that neatly marry high-tech engineering with opulent creature comforts.
The company's 2018 Mirage Cruise 8522 LX LES is a great example. Stretching just under 24 feet in length, the Mirage Cruise is a truly multi-purpose pontoon that's designed to offer something for every member of the family.
The four-corner lounge seating makes the most of this pontoon's open layout, providing two distinct living spaces on board. With its' facing wrap-around lounges and space for a removable pedestal-mount table, the roomy bow easily accommodates four people in comfort, and six without really squeezing. The seats feature full-height back rests, making them equally comfortable for occupants fac-ing forward, facing aft or seated facing one another. Plush 22-ounce marine carpet feels great under either wet or dry feet, while a variety of other flooring options are available.
Amidships, a pair of high-back Captain's chairs with fold-down armrests accommo-dates the driver and navigator. A small con-sole extending from the port gunnel provides a convenient cup holder for the passenger, located just aft of the portside mid-ships entry gate. Just ahead of the gate, the rear panel of the port-side bow seat opens to reveal a useful pop-up change room.
Passenger comforts all well and good, it's the driver who gets truly spoiled on the Mirage Cruise, with an attractive fiberglass console and a swiveling Captain's chair that's mounted on an automotive-style sliding base. The primary gauges are displayed in a compact cluster up top where they're easily visible no matter how the steering wheel is adjusted. The throttle control is perfectly posi-tioned, being within easy reach and at a good height. There's also a standard AM/FM stereo with Bluetooth connectivity, allowing easy streaming of music from phones and other portable devices.
The aft section of the Cruise 8522 mirrors the bow with twin lounge seats and facility to accommodate a removable pedestal mount table between them. Passengers in the twin Captain's chairs can join the conversation up front, or swivel around to be part of the group in the stern. Overhead, a standard Bimini top keeps the aft portion of the boat under some welcome shade. A double top, covering the entire boat, is available as an upgrade.
The rear entry gate leads to the boat's deep, full-width swim platform, which comes complete with a retractable boarding ladder to the starboard side. Since it will see its share of water, this portion of the deck is normal-ly finished in a durable Sea Weave flooring, which dries quickly while providing excellent anti-slip qualities. It also wears like iron while feeling soft and comfortable under foot.
With its twin 25-inch tubes, the Mirage Cruise 8522 LZ LES is rated to handle out-boards of up to 150 horsepower. Our test boat, rigged with a Yamaha F150, drove very well, offering the kind of stable, predictable handling that quickly inspires confidence. The boat cruises nicely at 3,500 rpm and around 20 mph, and reaches a top speed of just under 40 mph at wide open throttle. While other boats may be larger or faster, Sylvan's Mirage Cruise is just a joy to drive, and a treat to spend time aboard.
By Craig Ritchie