Boat Test #1503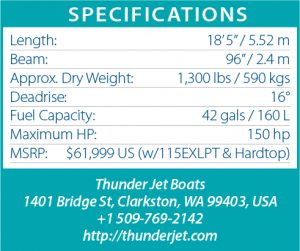 Heavy-gauge aluminum boats are increasing in popularity. The utilitarian design and complete focus on functionality won't work for everyone, but com-panies like Thunder Jet in Clarkston, WA have found a growing segment of "no-nonsense fishermen" who want a solid, reliable and long-lasting boat.
The Thunder Jet 185 Explorer is a great example. It starts with the hull. Thunder Jet uses heavy-gauge aluminum, over 50% thicker on the sides and 90% thicker on the bottom, yet still manages to come in nearly 400 pounds lighter than a traditional deep-V fishing boat. Add the optional half-hardtop, and the 185 Explorer is still only 1,500 pounds dry. Thunder Jet doesn't cut any corners to save weight, they just cut the frills.
Like the 17 other models in the Thunder Jet lineup, the 185 Explorer is built to get the job done. It's got all the features you need for a hard day of fishing. The boat stretches 18-feet, 5-inches from bow to stern. There's a 96-inch beam with a generous 37" freeboard.
It's a wide, deep boat, made even more spa-cious by simple layout choices. The consoles are further forward than most boats, meaning a smaller bow platform, but this isn't a bass boat, so sacrificing bow space to open up the aft cockpit is a smart move.
The cockpit is where the real action hap-pens with this style of boat. There is a pair of helm seats and a set of short benches directly behind running fore and aft. The result is a full-beam, open space between the seating area and the transom.
Standard power for the Thunder Jet 185 Explorer is a Mercury 90hp EFI four-stroke out-board. I'd be inclined to equip this boat with the optional 150hp engine for better perfor-mance, albeit at a higher price. I'd also option one of the nine different available colors (prob-ably Stellar Blue) to add an extra touch of per-sonality.
By Steve Sansford