Family-minded centre console.
Boat Test #1513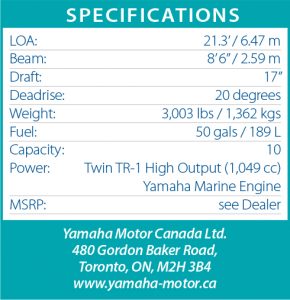 Yamaha introduced their jet powered centre console line of sport boats in 2017 with the 190 FSH Sport. In 2018, they build on the success of that launch with the 210 FSH Sport. I had the chance to test this new model late this past fall at Deerhurst Resort on a windy day that was perfect to see what kind of performance this new hull would offer.
At over 21 feet long and with an eight foot six inch beam, the 210 FSH hull offers plenty of planning surface when running, and a very stable platform when at rest. As I stepped aboard, the boat hardly moved. The traditional Yamaha sport boat swim platform was expectedly found with two aft-facing seats (perfect for getting ready for water sports, or just lounging at anchor) and the clean out ports for each engine under the hatch. There's also a wet storage locker aft.
Stepping into the full fiberglass lined cockpit, you'll find a double wide centre console helm seat with flip-fold seatback and a 48 quart cooler underneath. The helm features a wheel to port design with plenty of room for aftermarket electronics to starboard. Rod storage is tucked under both gunwales, and overhead, the powder-coated frame with canvas cover t-top features four rocket launcher rod holders which add to both the looks and functional-ity of the 210 FSH.
Forward of the helm, a centre seat faces the bow and lifts to reveal a change room under the helm with decent elbow room. Additional forward seating is well designed for family fun with well-padded back rests against the hull sides, and the seat bases are set low enough into the hull to be safe. Plus there's a grab handle and storage under-neath. Remove the seat cushions and you can fish from either side with a great view and nothing to catch your line thanks to the popup cleats. There's even a dedicated anchor locker, 18 gallon aerated livewell, and numerous cup holders.
Power for our top end speed of 46mph @ 8,000 rpm was supplied by Twin TR-1 High Output (1,049 cc) Yamaha Marine Engines. I pegged the throttle and recorded a time to plane of just 2.8 seconds. There's plenty of power to thrill even with 10 passengers on board, or towing a tube or skier. Handling was predictable and precise even in hard turns at speed. The No Wake Mode, Cruise Assist, and Yamaha's articulating keel certain-ly add to making the 210 FHS very maneu-verable around the dock – something I much appreciated on this windy day as I docked our test boat alone.
The beauty of a centre console, and why they are now becoming more and more pop-ular in Canada, is the incredible lack of main-tenance. Leave them tied to your cottage dock, they never fill with rainwater, there's no cover to put on and take off each time you want to use the boat, and they just hose out and minutes later they are ready to use.
The 210 FSH comes in your choice of either a white or a light blue hull side colour, with an optional galvanized or painted trailer, and the optional Yamaha Protection Plus which extends the factory warranty to up to 48 months.
The 210 FSH is a fishing boat for sure, but it doesn't forget that families want to cruise, swim and tube as well.
By Brad Roberts