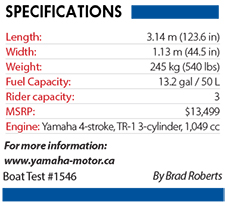 Yamaha's 2019 Waverunner lineup features a dozen models to choose from spread over four different lines: rec-lite, recreation, luxury and performance – so there's something for every rider of every capability. The all new for 2019 EXR is one of four models in their rec-lite line.
I had the opportunity to test this new waverunner – that is aimed at the entry level rider who wants exhilarating performance – this past fall out on Lake Simcoe. The blue and yellow watercraft stood out both tied to the dock and out on the water.
The EXR is built on the NanoXcel 2 hull and deck, the lighter weight giving the award winning TR-1 3 cylinder engine less to push and thus offering better performance from the 1,049cc 3-cylinder engine. The TR-1 engine features a single piece cylinder and crankcase design, and it is 40% smaller and 20% lighter than the MR-1 engine it replaces. It offers impressive acceleration both off the line and from a mid-cruising speed to the top end of about 54mph, and a very smooth power curve throughout. The combination of the hull (and only 123 inches in length) and the lighter powerplant resulted in a very pleasingly nimble machine that flies across the top of the waves and spins almost in place.
The rec-lite category maybe entry level, but Yamaha included their exclusive R.I.D.E system on this new EXR model that gives the driver ultimate control. The two handlebar control levers (pull the right lever to go forward, and the left lever for reverse) is very intuitive, and if you accidently panic pull them both the system reacts with precise control. To understand fully – you just gotta go try it for yourself!
The EXR offers a great entry level price point, impressive performance for single rider and the option to bring up to three passengers. All Yamaha WaveRunners come with a full one-year warranty.
By Brad Roberts